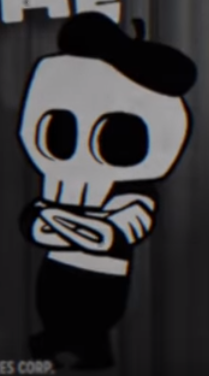 Cadavre is the main protagonist of the show Cadavre, as part of the Local 58 episode Show for Children.
The character appears in several of Kris Straub's works, including Broodhollow, and a dedicated comic strip series.
Appearance
[
]
Cadavre is a cartoon skeleton with no jaw or nose, dressed in a stereotypical Frenchman's outfit consisting of a striped jersey and black beret.
Trivia
[
]
His name, translated from French, means "corpse".